If there is one thing that is common in American households, it is water heaters.
Americans have been fascinated with hot water for a long time. From taking a hot shower in winter to doing dishes and washing clothes, having hot water at home is a staple. For this reason, water heaters in the Bay Area have become a necessity.
In recent years, the market has introduced different water heaters models, fit each household. But what many people struggle with comes down to one question: which water heater works best for me?
Criteria In Choosing A Water Heater
To aid consumers out there, the Department of Energy laid out a comprehensive list for you to choose the best type and model for your home. Here are the following criteria to consider:
Fuel Type
Size
Energy Efficiency
Annual Operating Cost
Fixture and GPM
Types Of Water Heaters
There are tons of water heaters manufacturers offer today. Here are the common types of water heaters essential in the American home.
1. Storage Water Heaters
Cost: $
Life Expectancy: 6 to 12 years with proper maintenance depending on the model
Fuel Type: Electricity, propane, fuel oil, and natural gas
Capacity: 20 to 80 gallons of hot water
Storage water heaters operate by releasing hot water from the tank's top when you turn on the hot water tap. Then, cold water enters at the bottom of the tank to replace hot water, ensuring it is always full.
Tank water heaters are ideal in households with a lot of space. If you have a basement, then this water heater is for you.
Pros:
Cons:
Ends up wasting energy since hot water is always heated
Impacts your energy cost, contribute as much as 30 percent of the cost
Space-consuming
Additional Tip:
You will have to consider efficiency when selecting a storage water heater. It will help you avoid paying more over its lifetime.
Look for models with a thermal resistance of R-12 to reduce standby heat losses from storage water heaters. Manufacturers like AO Smith provide tan water heaters powered by gas and electricity to comfort your home.
2. Tankless Water Heater
Cost: $$
Life Expectancy: 10 to 15 years with proper maintenance
Fuel Type: Electricity, natural gas, and propane
If your family consumes a lot of hot water, you must opt for a tank that allows a continuous hot water supply.
With tankless water heaters, also known as demand-type or instantaneous water heaters, you will never run out of hot water. Unlike storage water heaters, this type of water heater does not need water storage for the appliance to work. When you turn on the hot water tap, cold water travels through a pipe into the unit. It results in tankless water heaters to deliver a constant supply of hot water.
Pros:
Avoids standby heat loss
Saves 27% to 50% of energy at most
More space in your home
Longer product life
Cons:
Additional Tip:
Suppose you want to avoid reaching its limit. In that case, you can install two or more tankless water heaters connected in parallel for the simultaneous demands of hot water.
Ask the manufacturer about the cost of pilot light a tankless water heater uses if you consider buying a specific model. Water heater providers like Rinnai are known to have quality tankless water heaters for your home.
3. Heat Pump Water Heater
Cost: $$
Life Expectancy: 0-15 years; a hybrid electric heat pump water heater can last up to 6-10 years.
Fuel Type: Electricity
Heat pump water heaters use electricity to move heat from the ground or air to the water. This type of water heater uses up to 60 percent less electricity than traditional water heaters.
Pros:
Two to three times more energy-efficient than conventional electric resistance water heaters
Lesser operating cost
Environmentally conscious option
Cons:
Heat pump water heaters don't work good in cold spaces because of the ambient air and don't have a fast recovery rate in heat pump mode
Additional Tip:
Maintenance is the key to heat pump water heaters. For this type of water heater, it needs to be cleaned up to twice per year to prolong its lifespan. Water heater suppliers like Bradford White Water Heaters have a selection of heat pump water heaters for your home.
4. Solar Water Heaters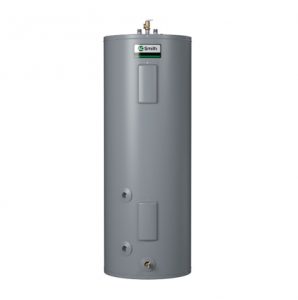 Cost: $$$
Life Expectancy: About 20 years
Fuel Type: Solar
If you aim to have an eco-friendly lifestyle, then this water heater is for your household.
A solar-powered water heater draws energy from the sun and works when you already have a solar panel in your house. A solar system can reduce utility costs by 70%. This type of water heater is the most energy-efficient of all because of its energy source.
Pros:
Environmentally-friendly
Save money every month on electricity with up to 70% utility cost reduced for water heating up
Cons:
Since it is solar-powered, it doesn't function in unfavorable weather conditions where there is little to no sun
Takes up to 40 years to see a return on your investment plus, it is expensive
Additional Tip:
Don't choose this type of water heater if you live in an area with a cold temperature. Since the sun is vital to making the machine work, you would waste your money if you purchase one.
Determine the site you want to install your solar water heater. Preferably, these heaters are installed on the roof, where it receives direct sunlight. If your roof isn't appropriate for solar water heaters, you may opt for a ground-mounted system.
Solar tanks have both direct and indirect booster tanks that are available in the market. For a more in-depth explanation of these specifications, you may want to ask water heater experts. Hot Water and American Water Heater are among the companies that provide high-quality and efficient solar-powered water heaters.
Conclusion
SPS Plumbing partners with companies like the following to give you the best water heaters possible:
AO Smith and its brands American Water Heaters, Lochinvar, John Wood, GSW, Reliance Water Heaters, State Water Heaters, U.S. Craftmeaster Water Heaters, and Takagi
Bradford White Water Heaters
Rinnai
Navien
State Water Heaters
These companies offer a variety of residential heaters you can choose for your home. Contact our water heater experts today to know the best water heaters in the Bay Area that suits your home.
For any plumbing-related questions and concerns, feel free to call us at 408-622-8183 (South Bay Area) or 209-597-9107 (Central Valley) or email us at info@spsplumbers.com.